Public Transport Competitive Tendering Profile
Las Vegas Converts 100 Percent
Costs Drop 1/3
January 30, 1997

---
---
Fast growing Las Vegas has converted its entire transit system from private monopoly operation to competitive tendering (competitive contracting)--- the first such complete conversion in a major US urban area. Las Vegas operates 190 buses and carried 32 million unlinked trips in 1996. Ridership has more than tripled since competitive tendering began, placing Las Vegas among the top 25 US urban areas in transit ridership.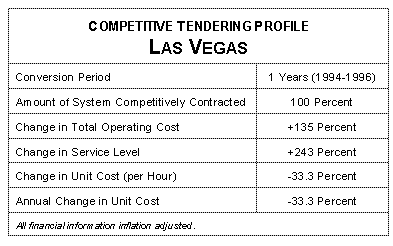 The 100 percent conversion of the Las Vegas transit system was immediate. In the first year of operation, total operating expenditures rose 135 percent, while service levels were increased by 243 percent.


Costs per vehicle hour dropped 33.3 percent (inflation adjusted).


Las Vegas has the lowest unit cost of the 50 US largest transit systems: 40 percent below average.(1)
---
1. Analysis of National Transit Database 1994.
---
For Additional Information Contact::
Wendell Cox
(Principal)
<! FOOTER AT 990814>

NAVIGATION & PUBLICATION SERIES