Public Transport Competitive Tendering Profile
Indianapolis Converts 70 Percent
January 30, 1997

---
---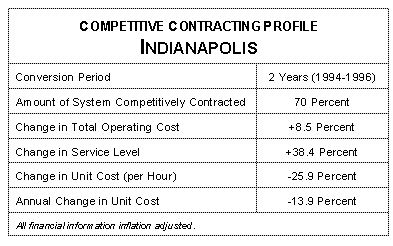 Indianapolis competitively contracts 70 percent of its bus system. This was made possible through state legislation that placed state transit subsidies under the control of the city of Indianapolis, rather than the public transit agency. Using its funding leverage, the city has placed the entire system under a "mobility manager,"(1) by which separation of policy from operations has been established. The public operator won a major contract by an immediate cost per hour reduction of 22 percent.(2)


Since beginning competitive contracting, Indianapolis has increased bus service levels by 38.4 percent, while total operating costs have increased only 8.5 percent (1994 to 1996, inflation adjusted).
---
1. The mobility manager is a consulting firm that oversees transit service contracts for the city of Indianapolis.
2. All information provided by or calculated from City of Indianapolis data.
---
For Additional Information Contact::
Wendell Cox
(Principal) <! FOOTER AT 990814>

NAVIGATION & PUBLICATION SERIES